NKUMU FED FED (NFF) SUPPORTS THE INTERNALLY
NKUMU FED FED (NFF) SUPPORTS THE INTERNALLY DISPLACED PERSONS IN NORTH WEST AND SOUTH WEST REGIONS OF CAMEROON DURING THE MONTHS OF AUGUST AND SEPTEMBER 2018
NKUMU FED FED (NFF) SUPPORTS THE INTERNALLY
One of our priority foci for intervention is on vulnerable groups especially women and children, with special attention on young girls. It is based on this that we rallied funds to give assistance to the internally displaced persons (IDPs), who are mainly women and children from the two affected regions of Cameroon. Within a week that a fund-raising campaign was launched through NFF forum, voluntary contributions came in from branches and individual members to enable us to procure basic needs for the IDPs. The list of IDPs were identified through the North West Regional Delegation of Women Empowerment and the Family (MINPROFF). We contacted the IDP representatives with whom we established their immediate needs. Members of our Bamenda branch played a vital role in the purchases and distribution of the needs for the IDPs. We succeeded in putting smiles on the faces of more than four hundred IDPs. Below are some pictures which give just an excerpt of our story.
The young female IDPs lined up to receive menstrual cups after having been coached on how to use them during menstrual periods. On the right above is a menstrual cup (white) and the cleaning tool (purple). This device is not only environmentally friendly but also has important economic advantage to the young female IDPs.
LATEST POSTS
New Posts
FACEBOOK PAGE
FOLLOW OUR TIMELINE ON OUR FACEBOOK PAGE
FUNDING PARTNERS
FUNDING PARTNERS SINCE OUR CREATION
Nkumu Fed Fed aims at empowering underprivileged and vulnerable groups in society with a focus on women and the girl child of rural communities, as a means of fighting poverty and guaranteeing equity in social and economic development. .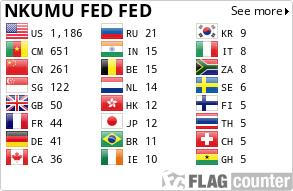 PO BOX : 126, Bali-MEZAM, North West Region -Cameroon
Email : info@nkumufedfed.org
Phone : +237 665 912 768
Registered Association : Decision No.0024/E 29/1111/ Vol 8/APPB of 26 Oct 2000 . ©1999-2018 Nkumu Fed Fed | Designed by INNO DIGITAL SOLUTIONS