AGM 2002
NKUMU FED FED
AGM 2001
The 7th AGM of Nkumu Fed Fed was held on the 17th March 2001 in Kumbawith Fed FedKumba as the host branch. Major Outcomes of the meeting:
Announced the legalization of Nkumu Fed Fed as a registered Association in October 2000
A woman of the year award was instituted. This was NFF's way of showing appreciation to women who had gone an extra mile in the pursuance of Fed Fed goals, and it is also as a way of motivating others who are just marginal members, to work even harder.Ma Rose Niba was honoured for tireless effort in the realization of the Behsein school project; and Ma Elizabeth Monkam was honored for boundless cheer.
NKUMU FED FED
FOLLOW US ON OUR FACEBOOK PAGE
Nkumu Fed Fed aims at empowering underprivileged and vulnerable groups in society with a focus on women and the girl child of rural communities, as a means of fighting poverty and guaranteeing equity in social and economic development. .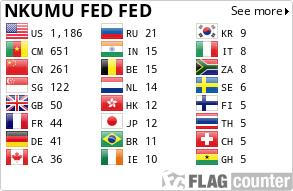 PO BOX : 126, Bali-MEZAM, North West Region -Cameroon
Email : info@nkumufedfed.org
Phone : +237 665 912 768
Registered Association : Decision No.0024/E 29/1111/ Vol 8/APPB of 26 Oct 2000 . ©1999-2018 Nkumu Fed Fed | Designed by INNO DIGITAL SOLUTIONS