AGM 2007
NKUMU FED FED
AGM 2007
The 13th AGM of Nkumu Fed Fed was organized on the 5th May 2007 Limbe with Fed FedLimbe as the host branch. Major outcomes of this meeting were as follows:
First presentation of topical issues in the AGM on "Leadership and Political Empowerment of Women".
NKUMU FED FED
FOLLOW US ON OUR FACEBOOK PAGE
Nkumu Fed Fed aims at empowering underprivileged and vulnerable groups in society with a focus on women and the girl child of rural communities, as a means of fighting poverty and guaranteeing equity in social and economic development. .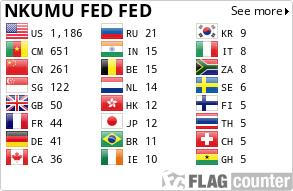 PO BOX : 126, Bali-MEZAM, North West Region -Cameroon
Email : info@nkumufedfed.org
Phone : +237 665 912 768
Registered Association : Decision No.0024/E 29/1111/ Vol 8/APPB of 26 Oct 2000 . ©1999-2018 Nkumu Fed Fed | Designed by INNO DIGITAL SOLUTIONS