AGM 2008
NKUMU FED FED
AGM 2008
The 14th AGM of Nkumu Fed Fed was held in Kumba – with Fed FedKumba as the host branch.
NKUMU FED FED
FOLLOW US ON OUR FACEBOOK PAGE
Nkumu Fed Fed aims at empowering underprivileged and vulnerable groups in society with a focus on women and the girl child of rural communities, as a means of fighting poverty and guaranteeing equity in social and economic development. .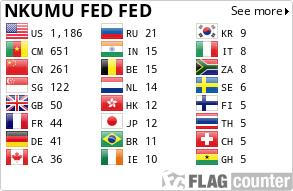 PO BOX : 126, Bali-MEZAM, North West Region -Cameroon
Email : info@nkumufedfed.org
Phone : +237 665 912 768
Registered Association : Decision No.0024/E 29/1111/ Vol 8/APPB of 26 Oct 2000 . ©1999-2018 Nkumu Fed Fed | Designed by INNO DIGITAL SOLUTIONS