AGM KUMBA 2014
NKUMU FED FED
AGM KUMBA 2014
The 20th AGM of Nkumu Fed Fed was organized on the 26th of April 2014 in the Kanton Hotel – Kumba with Fed FedKumba as the host branch Major Outcomes :
The 3rd Capacity Building Workshop on Nkumu Fed Fed Strategic Planning was organized on the 25th of April 2014.
Major Guest Statements included the BCA-USA statement to Nkumu Fed Fed on the occasion of the AGM.
A 2nd version of the Nkumu Fed Fed Uniform was finally adopted.
The 2nd Panel Discussion was organized during the Gala Fund Raising on the theme: Kumba says NO to Human Trafficking. Panelists included renown judges, prosecutors, medical practioners, religious leaders and social workers.
NKUMU FED FED
FOLLOW US ON OUR FACEBOOK PAGE
Nkumu Fed Fed aims at empowering underprivileged and vulnerable groups in society with a focus on women and the girl child of rural communities, as a means of fighting poverty and guaranteeing equity in social and economic development. .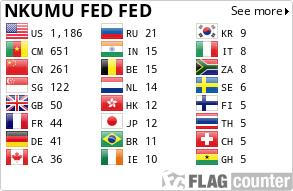 PO BOX : 126, Bali-MEZAM, North West Region -Cameroon
Email : info@nkumufedfed.org
Phone : +237 665 912 768
Registered Association : Decision No.0024/E 29/1111/ Vol 8/APPB of 26 Oct 2000 . ©1999-2018 Nkumu Fed Fed | Designed by INNO DIGITAL SOLUTIONS