AGM APRIL 1997
NKUMU FED FED
AGM APRIL 1997
The 2nd Annual General Assembly of Nkumu Fed Fed was organized on the 11th of April 1997 in the British Council Bamenda.This meeting was organized to constitute the Launching of the new association, Nkumu Fed Fed. Major Outcomes of this meeting:
Nkumu Fed Fed was launched on the 12th of April 1997 in Gungong;
The launching project in Gungong was the support to the village for the construction of a Health Centre and the support to the Wosing Village for the construction of a Health Centre;
NKUMU FED FED
FOLLOW US ON OUR FACEBOOK PAGE
Nkumu Fed Fed aims at empowering underprivileged and vulnerable groups in society with a focus on women and the girl child of rural communities, as a means of fighting poverty and guaranteeing equity in social and economic development. .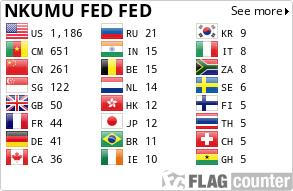 PO BOX : 126, Bali-MEZAM, North West Region -Cameroon
Email : info@nkumufedfed.org
Phone : +237 665 912 768
Registered Association : Decision No.0024/E 29/1111/ Vol 8/APPB of 26 Oct 2000 . ©1999-2018 Nkumu Fed Fed | Designed by INNO DIGITAL SOLUTIONS