CENTRE ADMINISTRATION
GWAN MULTIPURPOSE CENTRE
Centre Administration
Nkumu Fed Fed has constructed the Gwan Multi-Purpose Centre in Bali which serves as the base of the work of the organisation.The Centre is equipped with a Rehabilitation and Skills Department. Constructed in 2006 the Gwan Centre has gained wide recognition as a pioneer centre for the rehabilitation and training of young girls and boys withdrawn from situations of child trafficking, orphan children and vulnerable children from poor homes.
Multiple programs are carried out in the Centre with funds donated by Nkumu Fed Fed General Assembly, individual patrons and partner organisations.The Administration of the Centre is made up of the following:
A GMC Coordinator.
An Assistant GMC Coordinator in charge of Investment.
A Social Worker.
A Warden.
Several Volunteers.
Mrs Margeret Foncham, Centre Coordinator, Bali Nyonga-Mezam-Northwest Province -Cameroon, P.O Box 126 Bali-MEZAM. Tel: (237) 677 64 94 52 mamafoncham@yahoo.com, Centre Tel: (237) 675 10 7126.
NKUMU FED FED
FOLLOW US ON OUR FACEBOOK PAGE
Nkumu Fed Fed aims at empowering underprivileged and vulnerable groups in society with a focus on women and the girl child of rural communities, as a means of fighting poverty and guaranteeing equity in social and economic development. .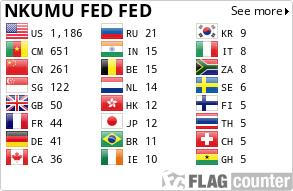 PO BOX : 126, Bali-MEZAM, North West Region -Cameroon
Email : info@nkumufedfed.org
Phone : +237 665 912 768
Registered Association : Decision No.0024/E 29/1111/ Vol 8/APPB of 26 Oct 2000 . ©1999-2018 Nkumu Fed Fed | Designed by INNO DIGITAL SOLUTIONS