GENDER AND CHILDREN'S RIGHTS
NKUMU FED FED
GENDER AND CHILDREN'S RIGHTS
Nkumu Fed Fed strategic objective for this program is to support and facilitate better access to quality education to the less privileged children of rural communities. The following a priority actions carried out yearly to attain this objective :
Scholarship and Training Programs.
Carryout a Scholarship program based on defined criteria for best performing and needy children.
Support School PTA's carrying out training programs.
Sensitization programs for young persons and clubs in schools.
Education Infrastructural support : Support communities with inadequate infrastructure with the construction of school infrastructure, Support initiatives of rehabilitation of dilapidated or damaged school infrastructure, Support schools and less privileged children with school equipment and materials.
Chairpersons:
Eunice Tita – Program Coordinator
CecyDoh – Assistant Coordinator
Members:
Branch representatives
Florence Bambodt
Andin Mbongeh
Mariana TitaGwenjeng
Beatrice Fogam
Project Coordinators: Back to School, Scholarship, Palace Project, Gungong , Technical College, Equipment Folow Up.
Parnter Representatives:
Inspector of Education
BA TitaFonkwa
Headmasters
Principals
Community Representative:
Representative BCA-USA
Bali Council
NKUMU FED FED
FOLLOW US ON OUR FACEBOOK PAGE
Nkumu Fed Fed aims at empowering underprivileged and vulnerable groups in society with a focus on women and the girl child of rural communities, as a means of fighting poverty and guaranteeing equity in social and economic development. .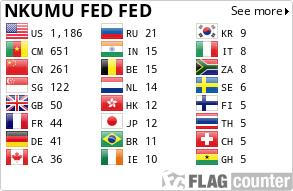 PO BOX : 126, Bali-MEZAM, North West Region -Cameroon
Email : info@nkumufedfed.org
Phone : +237 665 912 768
Registered Association : Decision No.0024/E 29/1111/ Vol 8/APPB of 26 Oct 2000 . ©1999-2018 Nkumu Fed Fed | Designed by INNO DIGITAL SOLUTIONS