Our Objectives
OBJECTIVES
NKUMU FED FED OBJECTIVES
To attain its mission, the specific objectives are:
To provide a good learning environment and facilities to enable disadvantaged children especially the girl child have access to quality education;
To strengthen health care facilities/programs and support home based care to people living with HIV/AIDS (PLWHA) for improved health conditions in rural communities;
To advocate in protection of the rights of the child and provide shelter especially in situations of child abuse;
To increase the level of women's access to Land and control over resources by supporting schemes and advocating for principles that meet women's practical and strategic needs for empowerment.
NKUMU FED FED
NKUMU FED FED OBJECTIVES
FUNDING PARTNERS
FUNDING PARTNERS SINCE OUR CREATION
Nkumu Fed Fed aims at empowering underprivileged and vulnerable groups in society with a focus on women and the girl child of rural communities, as a means of fighting poverty and guaranteeing equity in social and economic development. .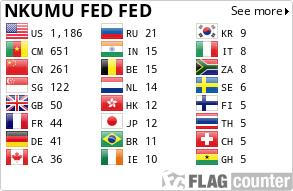 PO BOX : 126, Bali-MEZAM, North West Region -Cameroon
Email : info@nkumufedfed.org
Phone : +237 665 912 768
Registered Association : Decision No.0024/E 29/1111/ Vol 8/APPB of 26 Oct 2000 . ©1999-2018 Nkumu Fed Fed | Designed by INNO DIGITAL SOLUTIONS