ORGANISATIONAL CHART
NKUMU FED FED
ORGANISATIONAL CHART
The organinsation of Nkumu Fed Fed has a multi-tiered governance structure of a General Assembly, National Executive Committee and Branch level organs :
A General Assembly referred to as Annual General Assembly (AGM). Composed of all the branches and their member, the General Assembly is the supreme decision making body of the organisation that convenes annually.
A National Executive Committee (EXCO): This is the executive arm of the organisation charged with implementing AGM decisions and supervising other organs. The EXCO is composed of 20 officials elected by the General Assembly.
Branch level organs are found in all the 10 Fed Fed branches that make up the network
DOWNLOAD
ORGANISATIONAL CHART DOCUMENT
Nkumu Fed Fed aims at empowering underprivileged and vulnerable groups in society with a focus on women and the girl child of rural communities, as a means of fighting poverty and guaranteeing equity in social and economic development. .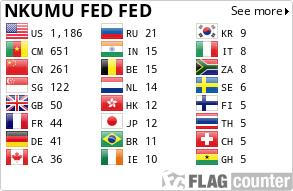 PO BOX : 126, Bali-MEZAM, North West Region -Cameroon
Email : info@nkumufedfed.org
Phone : +237 665 912 768
Registered Association : Decision No.0024/E 29/1111/ Vol 8/APPB of 26 Oct 2000 . ©1999-2018 Nkumu Fed Fed | Designed by INNO DIGITAL SOLUTIONS