PROGRAM PRIORITIES
GWAN MULTIPURPOSE CENTRE
PROGRAM PRIORITIES
Gwan Centre Multistakeholder Advisory Committee is made up of the following:
Coordinators:
Maggi Foncham – Program Coordinator.
Anna Joko – Assistant Coordinator.
Members:
Representative of NFF EXCO- Mami Rufina Manyi Mutia
Branch Presidents
Eunice Tita
Judith Fossung
Briget Nteh
Project Coordinators: Special Needs children
Partner Representatives:
Lawyer Bobga
Ba Sam Fohtung
Social affairs
Community Representative:
Bali Council
Children's prefects
Representative Parents
Representative Trainers
NKUMU FED FED
FOLLOW US ON OUR FACEBOOK PAGE
Nkumu Fed Fed aims at empowering underprivileged and vulnerable groups in society with a focus on women and the girl child of rural communities, as a means of fighting poverty and guaranteeing equity in social and economic development. .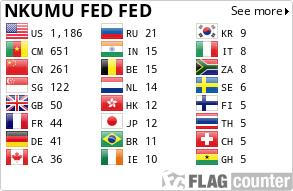 PO BOX : 126, Bali-MEZAM, North West Region -Cameroon
Email : info@nkumufedfed.org
Phone : +237 665 912 768
Registered Association : Decision No.0024/E 29/1111/ Vol 8/APPB of 26 Oct 2000 . ©1999-2018 Nkumu Fed Fed | Designed by INNO DIGITAL SOLUTIONS