REHABILITATION AND SKILLS DEPARTMENT
GWAN MULTIPURPOSE CENTRE
REHABILITATION AND SKILLS DEPARTMENT
The programs in this department include the following:
Each year the Department admits an average of 30- 40 vulnerable children. Based on the recommendations of the Social workers, children in situations of distress are provided shelter in the Centre while children from stable homes are admitted as non-residents.
Skills training is provided for all children in vocations which include: hairdressing, tailoring, carpentry, art and craft, mechanics, wielding, etc….Children graduate from their trainings and kits are provided to support their installation in the community.
Civic education programs bring in several experts including university student mentors to prepare young children for effective reintegration in society.
A small Micro-finance loan has been introduced to children resident in the centre to run a poultry and do farming to augment their feeding and generate petty income for their needs.
NKUMU FED FED
FOLLOW US ON OUR FACEBOOK PAGE
Nkumu Fed Fed aims at empowering underprivileged and vulnerable groups in society with a focus on women and the girl child of rural communities, as a means of fighting poverty and guaranteeing equity in social and economic development. .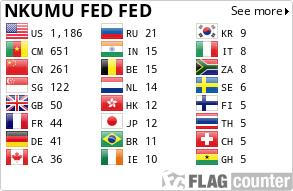 PO BOX : 126, Bali-MEZAM, North West Region -Cameroon
Email : info@nkumufedfed.org
Phone : +237 665 912 768
Registered Association : Decision No.0024/E 29/1111/ Vol 8/APPB of 26 Oct 2000 . ©1999-2018 Nkumu Fed Fed | Designed by INNO DIGITAL SOLUTIONS